Showing Articles from Issue 'Vol. 3, Issue 1, June 2022'
---
President's Message
Over the past eight months, we have hosted 6 successful virtual seminars, launched online registration for our seminars and worked to increase our sponsorships in order to continue to grow our chapter.
---
Going from Zero to Net Zero - A Condo's Guide to Electric Vehicle Infrastructure
Interest in owning an Electric Vehicle (EV) may vary from condo to condo but one thing is for sure, they're coming. We don't have to look further than the available stats.
---
Common Element Rules – A Corporation's Superpower
The world can change quickly, as we have all realized firsthand over the last two years. The governing documents of a condominium, however, are not always as quick to respond to change.
---
Condominium Act Amendments Passed
On March 25, Hon. Colton Leblanc, the Minister responsible for the Condominium Act, introduced Bill 106 in the Legislature. With Nova Scotia's usual fast legislative process, it was approved on April 7. It will come into effect only when it is proclaimed by the Government.
---
How Is Your Property Manager Doing? A Checklist
Multi-unit condominiums often have professional managers running their operations. The relationship between corporation and manager is covered by a management agreement. These management agreements are helpful to review when the board is looking to evaluate the work done on behalf of the corporation by the property manager.
---
Condo Demand Increasing
Demand for Condos is increasing in Nova Scotia. After a period of time where developers chose to build apartment complexes, rather than condominium units, the demand is back and folks would rather own than rent.
---
Check Your Liability Insurance Coverage for Water Damage
All condominium owners should check their personal insurance policies to ensure they are not exposed to claims by their condominium corporation that will not be paid by insurance.
---
Estoppel Certificates: What Do They Contain?
Estoppel Certificates are a vital part of the purchase of your condominium. The Certificate "package" that must be delivered to the buyer includes:
---
Easing of Covid Restrictions and Your Condo
Beginning in late March 2020, many Condominium Boards followed suggestions by the Department of Health to reduce contact in common areas. Function rooms, guest suites and fitness rooms were closed in most corporations. Social distancing plans for elevators and masks became and everyday way of life.
Latest Issue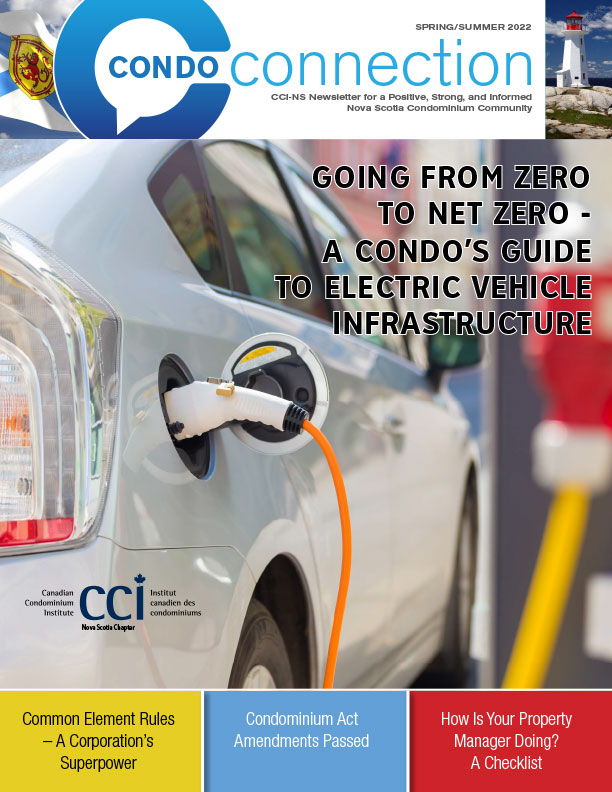 Vol. 3, Issue 1, June 2022
View PDF
---
Search Archives
---
Issue Archive
---
Article Categories
filter articles
---
---