Showing Articles from the category 'Feature'
---
Condominium Insurance and Risk Management
Over the past two years Nova Scotia condominium corporations have experienced increased premiums and deductibles and now find there are fewer options in the insurance marketplace.
---
That Bloomin' Neville! Create Your Own "View"
We have all been spending a LOT more time in our homes this year than we usually have, and I know many have used the time to decorate and embellish their homes and balconies. Plants were (and still are!) hot musthaves and now we cannot enjoy our petunias and geraniums outside, it doesn't mean we have to completely do without something pretty to enjoy looking out at.
---
I Didn't Know I Had To Do That
For those that have been following my journey to self-management we had our unusual covid-19 detour and while we are still observing the emergency health directives, it has so far been a very enlightening experience not only for me but our Owners as well.
Latest Issue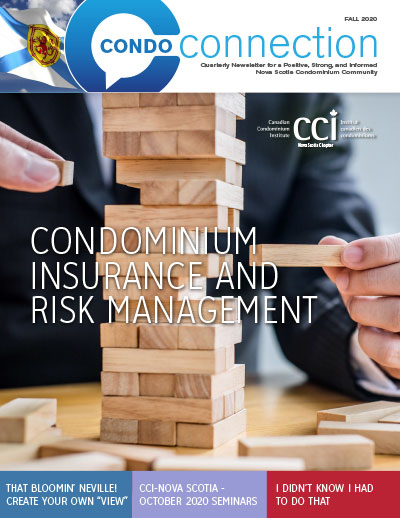 Vol. 1, Issue 1, November 2020
View PDF
---
Search Archives
---
Issue Archive
---
Article Categories
filter articles
---
---