Showing Articles from the category 'Regular Column'
---
President's Message
Over the past eight months, we have hosted 6 successful virtual seminars, launched online registration for our seminars and worked to increase our sponsorships in order to continue to grow our chapter.
---
Estoppel Certificates: What Do They Contain?
Estoppel Certificates are a vital part of the purchase of your condominium. The Certificate "package" that must be delivered to the buyer includes:
---
Easing of Covid Restrictions and Your Condo
Beginning in late March 2020, many Condominium Boards followed suggestions by the Department of Health to reduce contact in common areas. Function rooms, guest suites and fitness rooms were closed in most corporations. Social distancing plans for elevators and masks became and everyday way of life.
---
Lockboxes and Condo Corporations
Has your condo been plagued with lockboxes remaining at your property long after units have been sold?
---
Condo Water Leaks: What You Need to Know
Water can deliver serious damage almost anywhere, even up on the top floors of a condominium building. "Clients may think they are above the deluge, but the smart broker knows better."
---
No Reservations – Are you paying close attention to your Reserve Fund Study or Depreciation Report?
CCI NATIONAL UPCOMING EVENTS:
---
Professional and Business Partners Directory (CCI-NS Chapter)
---
Condo Board Q & A: Voting
CCI-NS receives questions from its members and provides answers by our board and industry experts. These are general answers meant to provide general responses. Where you have detailed questions specific to your situation, your condo corporation, or involving legal or financing matters, you should always seek professional advice.
---
Energy-Saving Tips for Your Condo
A little late-spring cleaning will help save you money throughout the year.
---
Case Law Round Up
Duncan v. Savoy, 2020 NSSC 331
---
Professional and Business Partners Directory (CCI-NS Chapter)
Professional and Business Partners Directory (CCI-NS Chapter)
---
CCI-NS Education Plan for 2020/2021
COURSES
CCI-NS conducted an online Condo Management 100 course on two consecutive Saturdays - October 31 and November 7. The Condo Management 200 online course will take place in the same format on Saturday, January 30, 2021 and February 21, 2021 from 9:00am to 1:00pm both days.
---
Professional and Business Partners Directory - CCI-NS Chapter
Professional and Business Partners Directory - CCI-NS Chapter
Latest Issue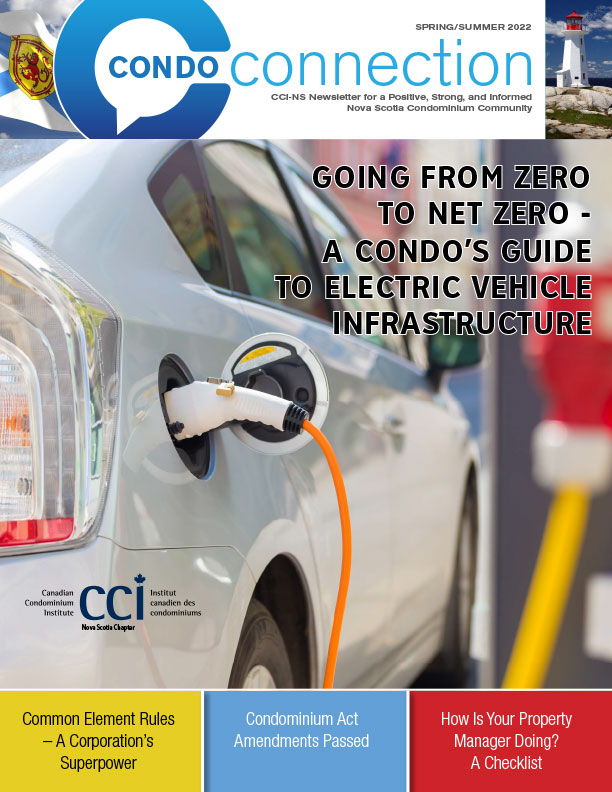 Vol. 3, Issue 1, June 2022
View PDF
---
Search Archives
---
Issue Archive
---
Article Categories
filter articles
---
---