Showing Articles from Issue 'Vol. 1, Issue 1, November 2020'
---
President's Message
We can now celebrate the beginning of another year of CCI in Nova Scotia. Looking back over the past year, I believe I can speak for everyone when never imagining finding ourselves or our CCI-NS Chapter in the place we are now.
---
Renewal of Provincial State of Emergency
EMERGENCY AREA: On March 22, 2020 a State of Emergency was declared for all the Province of Nova Scotia.
Nature of the emergency: The COVID-19 virus, which has caused a pandemic, is in the Province and that event requires prompt coordinated action or regulation for the protection of property and for the health and safety of persons in Nova Scotia.
---
Condominium Insurance and Risk Management
Over the past two years Nova Scotia condominium corporations have experienced increased premiums and deductibles and now find there are fewer options in the insurance marketplace.
---
That Bloomin' Neville! Create Your Own "View"
We have all been spending a LOT more time in our homes this year than we usually have, and I know many have used the time to decorate and embellish their homes and balconies. Plants were (and still are!) hot musthaves and now we cannot enjoy our petunias and geraniums outside, it doesn't mean we have to completely do without something pretty to enjoy looking out at.
---
I Didn't Know I Had To Do That
For those that have been following my journey to self-management we had our unusual covid-19 detour and while we are still observing the emergency health directives, it has so far been a very enlightening experience not only for me but our Owners as well.
---
CCI-Nova Scotia – October 2020 Seminars
On October 28, 2020 CCI-NS held its first seminar of the 2020-2021 Education Season. This seminar was free for members and non-members alike. The seminar was geared towards educating the greater community about CCI National, and CCI-NS. It was a great opportunity to speak to what we do and strive to do, to bring value to our members.
---
CCI-NS's First Virtual AGM
On September 17, 2020 CCINS held its Annual General Meeting. Due to the concern for members brought about by COVID-19 and restrictions to social gatherings, this AGM was held virtually.
---
CCI Director's Code of Ethics
Extracted from CCI National Resource Centre
CCI code of ethics for use by Condominium and Strata Corporations are important for all Condominium Boards to have in place. Here is a guide form that can be completed and signed by potential directors.
---
Small Business Every Day in Nova Scotia
Extracted from CCI National Resource
Small Business Every Day campaign launches, challenging Canadians to support small business recovery.
---
CCI-NS Education Plan for 2020/2021
COURSES
CCI-NS conducted an online Condo Management 100 course on two consecutive Saturdays - October 31 and November 7. The Condo Management 200 online course will take place in the same format on Saturday, January 30, 2021 and February 21, 2021 from 9:00am to 1:00pm both days.
---
Reminder for Seniors – Survivor Benefit
Reminder for Seniors who receive the Guaranteed Income Supplement, Allowance or Allowance for the Survivor Benefit
---
Professional and Business Partners Directory - CCI-NS Chapter
Professional and Business Partners Directory - CCI-NS Chapter
From Issue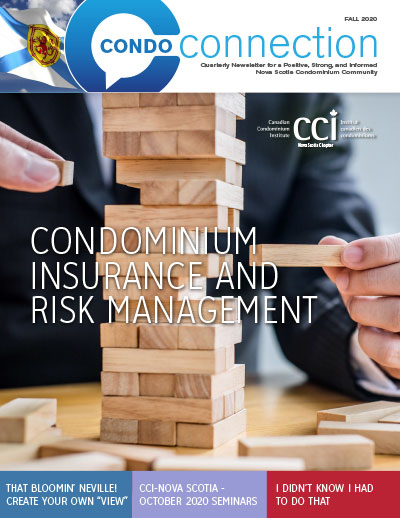 Vol. 1, Issue 1, November 2020
PDF
---
Search Archives
---
Issue Archive
---
Article Categories
filter articles
---
---